designs built to your specifications
In radio receivers, picking faint signals out of the ubiquitous background noise requires low noise amplifiers that maintain an acceptable signal-to-noise ratio. These amplifiers are low power devices that use special matching circuits and low-noise active elements that are placed as close to the receiving antenna as possible. Generally, low noise amplifiers become useful above 30-50MHz. Below 30MHz, external noise and interference dominate the radio channel. At UHF and above, the use of low noise amplifiers in receivers is essential.
​
Most of our low noise amplifier designs use discrete and integrated solutions from UHF to Ka band. In many cases, in L-band and above, the LNA is directly integrated in the antenna for use in navigation, communications and radar applications.
Application
---
This low noise amplifier (LNA) is one in series of LNA's that we developed. This specific unit is part of an L-Band satellite modem that is used in an asset tracking application. The amplifier is optimized for lowest possible noise figure with highest possible intercept point while keeping power consumption and cost low.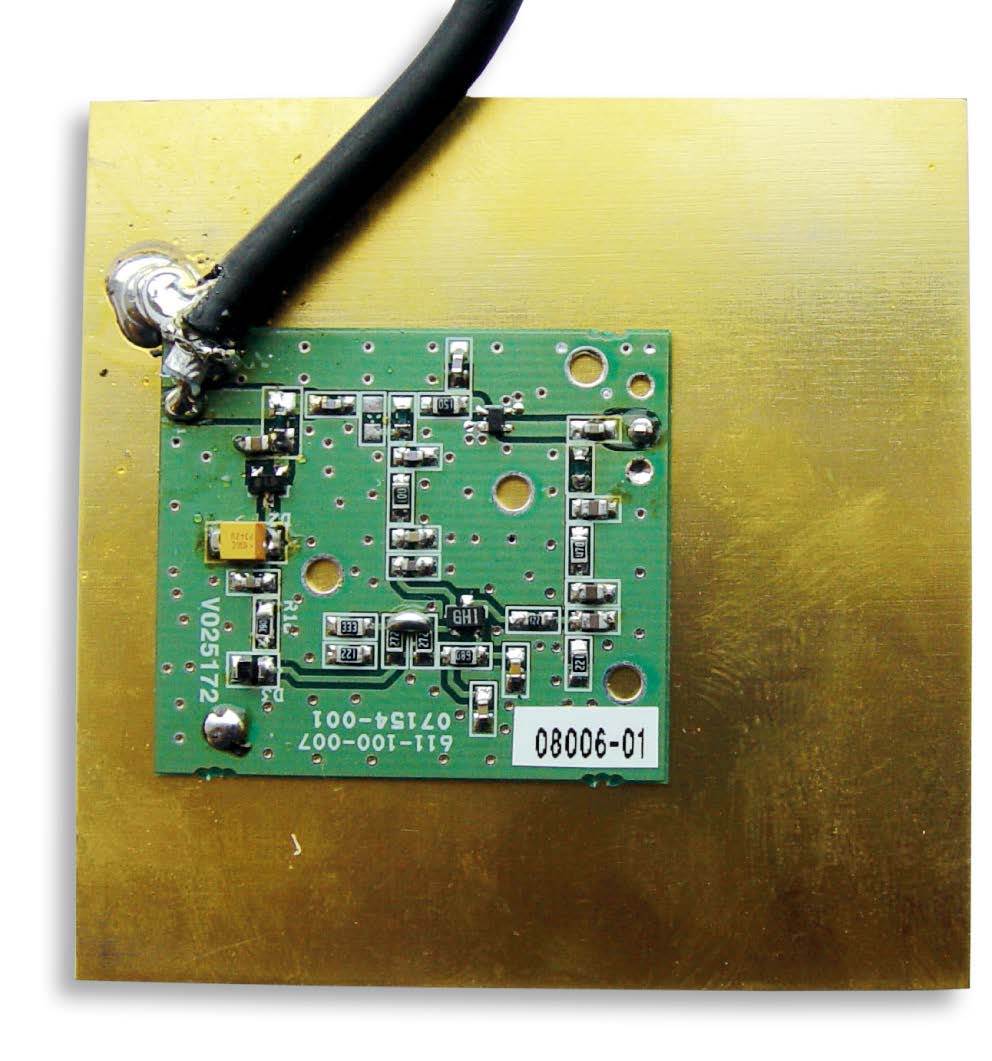 ---
Configurations
---
This LNA uses a single stage, low noise amplifier for 12 dB of gain. A stripline band stop filter traps the uplink signal in the 1.645 GHz band to avoid saturating the LNA when the modem is transmitting. This feature was designed in because the modem operates in full duplex.
---
Key Features
---
• Series of low noise amplifiers
• Low noise
• High intercept point
---
Noise Figure
---
Power is fed through the coax cable and an on board low noise voltage regulator
provides the LNA with a stable and clean supply voltage over a wide input
voltage range In addition to the satellite downlink band segment centered at 1.545 GHz, this LNA also covers GPS L1.
---
Specifications
---
---
Optional Custom Modifcations
---
Different frequency ranges: S, C, X, Ku and Ka-Band
Higher gain
Higher intercept point
Optimized for power consumption
Multi band
DC/DC converters to cover custom input voltage ranges
Mounted to antenna or operating as a stand alone unit
** If you have different requirements for a similar design or a completely new set of requirements, please contact us at the numbers listed below or via mail or refer to the sales page on our website for a representative in your area.**
---
---
Application
---
This low noise amplifier is one in series of filtered L-Band LNA's that we developed. This specific unit is integrated in our high end, base station/geodetic class GPS antennas that are used in positioning and timing applications that demand the highest possible performance. This amplifier is optimized for low noise figure, a high third order intercept point (IP3) and small group delay variation. This assures the best possible reception even with strong in and out of band interferes present. By careful design we were able to limit the power supply current to 50 mA to ensure compatibility with the 50 mA maximum output current offered by some high end GPS receivers. In addition to the GPS L1/L2/L5 frequency bands, this LNA also covers the Russian Glonass frequencies as well as the European Galileo bands and the Chinese Compass frequencies.
---
Configurations
---
A diplexer at the input splits the L1 and L2/L5 frequency bands. Two individual
LNA chains provide gain. Optional band pass can provide additional selectivity as needed. A low noise voltage regulator with extensive decoupling makes sure the individual gain stages are powered with a very stable and clean supply voltage over a wide input voltage range. The unit is powered via the output or a separate connection. Other diplexers that cover L1 and L2 are available and custom diplexers can be designed in to cover specific bands like the L-Band satellite downlink segment at 1545 MHz. Specific versions of this LNA are optimized for integration into our choke ring or rover antennas and other dimensions can be accommodated for.
---
Key Features
---
• Series of high performance GPS Low Noise Amplifiers
• Covers all GPS bands
• Optionally covers all GNSS bands
• Optional L-Band coverage
• Wide range of custom RF filter/ diplexer bandwidths
• Available with 20, 30, 40 or 50 dB of gain
• High third order intercept point
• Low group delay variation
• On board, low noise power supply
---
Noise Chart
---
---
Specifications
---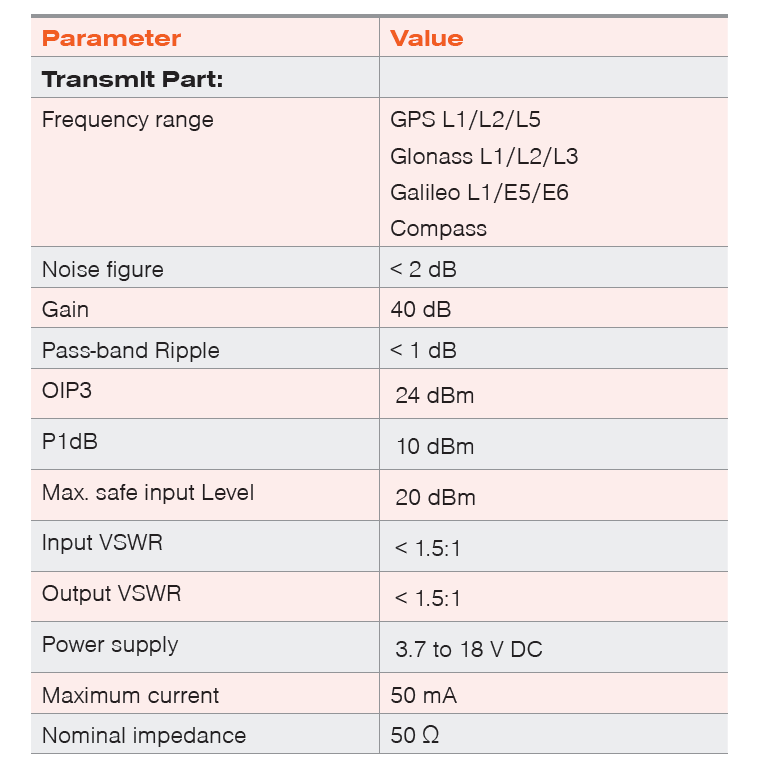 ---
Optional Custom Modifications
---
Different frequency bands Different bandwidths
Versions with 20, 30 or 50 dB of gain
Programmable gain
Additional filtering
Input power protection
Higher IP3
Lower noise figure
Integrated with radiating element
**If you have different requirements for a similar design or a completelynew set of requirements, please contact us at the numbers listed below or via mail or refer to the sales page on our website for a representative in your area.**
---
---